Beter laat dan nooit...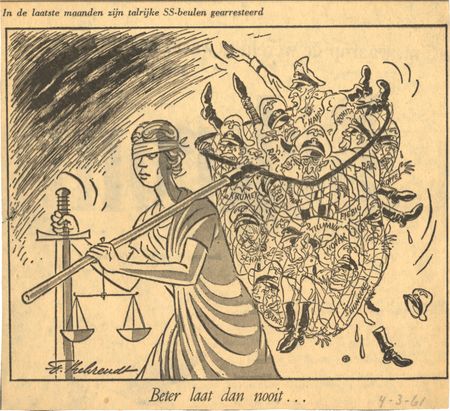 Visual Documents

Draughtsman:
Behrendt, Fritz

Period:
1961-1961

Physical Description:
16x18.5 cm.

Published:

1961, 4 maart

Amsterdam :Algemeen Handelsblad.



Genres:
Subject Person:
Eichmann, Adolf
Rapp, ..
Hahn, Ludwig
Wiebens, ..
Rokita, ..
Bär, Heinrich
Koppe, Wilhelm
Krumey, ..
Fiebig, ..
Tillmann, ..
Novak, Franz
Schäfer, ..
Hunsche, Otto
Pradel, ..

Subject:
War crimes
Caricature

Subject Location:
Federal Republic of Germany

Call number
Use restrictions for the image
Please consult the IISH copyright statement before using this image.
The IISH does not know the copyright owner of this document, if any. In many cases, however, most notably for commercial purposes, permission to reproduce material in copyright is required from the copyright owner. The onus of establishing the copyright owner and obtaining permission rests with the user. If you are the copyright owner, please get in touch with the IISH.