History and collective memory in South Asia, 1200-2000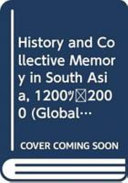 Books and Brochures

Author:
Guha, Sumit

Language:
English

Summary:
"Sumit Guha considers South Asian traditions of social and historical memory in the context of world history, identifying the influence of varying forms of socio-political organization on precolonial regional and linguistic patterns of historical memory. These traditions shaped the historiographic legacy that was inherited by the British imperial era in India. Guha explores the ways in which socially objective historical memory has been made in South Asia through the past eight centuries. The latter part of that period was one in which Asia had to deal with the impact of the West, not only politically and economically, but also through the hegemony of Western modes of thought, especially history. Drawing on sources in a range of languages, Guha establishes the first intellectual history of the precolonial traditions of historiography in diverse Indian regions. He emphasizes the social context of historical thought, while noting that "the frame does not make the painting, even though a canvas will fall limply underfoot without a frame to hold it." The Social Frame of Historical Memory contributes to far-reaching historiographical debates, which intensified in the Anglo-American world during the 1990s as historians responded to the post-modern critique of knowledge. Arguments around the objectivity of historians' practices continue to intensify following Oxford Dictionaries' selection of "post-truth" as the Word of the Year for 2016, and as accusations of "fake news" complicate the public's understanding of objectivity and documentation. This volume is thus a timely contribution to the study of history within the global setting"--

Physical Description:
xiii, 240 pages.

Bibliography:
Includes bibliographical references and index.

ISBN:
9780295746227 (hardcover : alk. paper)
9780295746210 (pbk. : alk. paper)

Published:

Seattle :

University of Washington Press,

2019.



Series:
Global South Asia.

Call number