Slavery and slaving in African history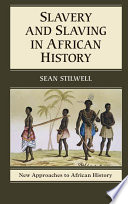 Books and Brochures

Author:
Stilwell, Sean, 1968-

Language:
English

Summary:
This book is a comprehensive history of slavery in Africa from the earliest times to the end of the twentieth century, when slavery in most parts of the continent ceased to exist. It connects the emergence and consolidation of slavery to specific historical forces both internal and external to the African continent. Sean Stilwell pays special attention to the development of settled agriculture, the invention of kinship, "big men" and centralized states, the role of African economic production and exchange, the interaction of local structures of dependence with the external slave trades (transatlantic, trans-Saharan, Indian Ocean), and the impact of colonialism on slavery in the twentieth century. He also provides an introduction to the central debates that have shaped current understanding of slavery in Africa. The book examines different forms of slavery that developed over time in Africa and introduces readers to the lives, work, and struggles of slaves themselves.

Physical Description:
xvi, 223 pages : illustrations ; 24 cm.

Bibliography:
Includes bibliographical references and index.

ISBN:
9781107001343
110700134X
9780521171885
0521171881

Published:

New York, NY :

Cambridge University Press,

2014.



Series:
New approaches to African history ; 8.

Call number