Second world, second sex : socialist women's activism and global solidarity during the Cold War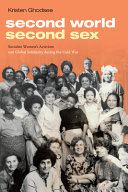 Books and Brochures

Author:
Ghodsee, Kristen Rogheh 1970-

Language:
English

Physical Description:
xviii, 306 pages

Bibliography:
Includes bibliographical references and index.

ISBN:
9781478001393 (hardcover : alk. paper)
9781478001812 (pbk. : alk. paper)

Published:

Durham :

Duke University Press,

2019.



Call number