China's great migration : how the poor built a prosperous nation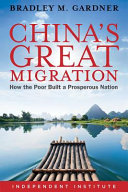 Books and Brochures

Author:
Gardner, Bradley M.

Language:
English

Summary:
"China's rise over the past several decades has lifted more than half of its population out of poverty and reshaped the global economy. What has caused this dramatic transformation? In China's Great Migration : How the Poor Built a Prosperous Nation, author Bradley Gardner looks at one of the most important but least discussed forces pushing China's economic development: the migration of more than 260 million people from their birthplaces to China's most economically vibrant cities. By combining an analysis of China's political economy with current scholarship on the role of migration in economic development, China's Great Migration shows how the largest economic migration in the history of the world has led to a bottom-up transformation of China"--Provided by publisher.

Physical Description:
xii, 219 pages : illustrations ; 24 cm

Bibliography:
Includes bibliographical references.

ISBN:
9781598132229 (hardcover)
9781598132236 (paperback)

Published:

Oakland, California :

Independent Institute,

2017.



Call number