Opera omnia Desiderii Erasmi Roterodami : recognita et adnotatione critica instructa notisque illustrata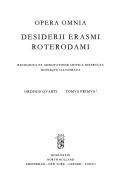 Books and Brochures

Author:
Erasmus, Desiderius, 1469-1536

Other Author(s):
Waszink, Jan Hendrik, 1908-1990
Halkin, Léon-Ernest, 1906-1998
Reedijk, Cornelis, 1921-2000
Bruehl, Clemens M

Language:
Latin
French
English
German

Physical Description:
34 dl ; ill ;

ISBN:
0720461502(serie)
9720461529(I.2)
0720461537(I.3)
0720461545(I.4)
0720461561(I.5)
044470454X(I.6)
0444822682(I.7)
0444897437(II.1)
0444829741(II.2)
0444516387(II.3)
044470132X(II.4)
0444861890(II.5)
0444861904(II.6)
0444828346(II.7)
0444821503(II.8)
0720461553(IV.1)
0444886354(IV.1A)
072046157X(IV.2)
0444853839(IV.3)
0720461588(V.1)
044486878X(V.2)
0444701338(V.3)
0444887474(V.4)
0444897429(V.5)
0444509429(VI.2)
0444518355(VI.3)
0444502815(VI.5)
0444514600(VI.6)
0444514619(VI.8)
0444823956(VII.6)
0444862692(IX.1)
0444866051(IX.2)
0444823859(IX.3)
0444510559(IX.4)

Published:

Amsterdam [etc.] :

North-Holland [etc.],

1969-.



Note:
Met index.
Rugtitel: Erasmi Opera Omnia.
Ordinis III, VI: 1, 4 & 7, VII: 1-5, VIII ontbreken.
De uitgave van Erasmus' Opera Omnia is een langlopend KNAW-project, dat wordt uitgevoerd onder auspiciën van de Union Académique Internationale (UAI) en de Conseil international pour l'édition des oeuvres complètes d'Erasme. Anders dan de oude edities van Bazel (1538-1540) en Leiden (1703-1706), laat de nieuwe editie zien welke wijzigingen Erasmus in de loop der jaren in zijn werken heeft aangebracht. De nieuwe editie biedt een gezuiverde ('kritische') Latijnse tekst (geen vertaling). Elk geschrift is voorzien van een inleiding en een commentaar in het Frans, Duits of Engels.

Call number