Spain's martyred cities : from the Battle of Madrid to Picasso's Guernica, including the reconstructed text of Louis Delaprée's the Martyrdom of Madrid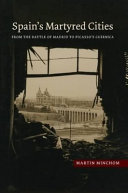 Books and Brochures

Author:
Minchom, Martin

Language:
English

Summary:
"Spain's Martyred Cities studies international reactions to the Spanish Civil War between the Battle of Madrid in November 1936 and the bombing of Guernica in April 1937. Many of the iconic events of the war belong to this key period, when international perceptions of the conflict were decisively shaped. The subject is approached through French and British newspapers and pamphlets, and events are linked to both their immediate press coverage and subsequent literary and artistic representations. For contemporaries, the aerial bombardments of Madrid, Guernica and other cities formed part of a single unbroken narrative. It was only later that Guernica acquired its perceived symbolic primacy. The language of 'martyrdom' was sometimes evoked in pro-Republican writing as a means of challenging Francoist claims to the religious and moral high ground. But the ur-text was The Martyrdom of Madrid (1937), a compilation of the posthumous, censored reports of the French correspondent Louis Delaprée on the bombing of Madrid. Delaprée's earliest reporting (July-October 1936) was from both the Nationalist and Republican zones, and is used to provide an introductory overview of the early stages of the war; he was an eyewitness of the aerial bombardments of Madrid in November 1936; subsequently, the posthumous publication of his writings created a major stir in Paris. Delaprée's powerful and emotive writing provides a platform from which to discuss issues of press censorship and journalistic practice"--

Physical Description:
xix, 297 pages : illustrations ; 24 cm.

Bibliography:
Includes bibliographical references (pages 273-287) and index.

ISBN:
9781845196608 (hardback : acid-free paper)

Published:

Brighton [etc.] :

Sussex Academic Press [etc.],

2015.



Series:
The Cañada Blanch / Sussex Academic studies on contemporary Spain.

Call number