Merchants and trading in the sixteenth century : the golden age of Antwerp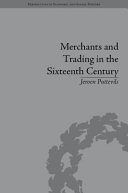 Books and Brochures

Author:
Puttevils, Jeroen

Language:
English

Summary:
Sixteenth-century Europe was powered by commerce. Whilst mercantile groups from many areas prospered, those from the Low Countries were particularly successful. This study, based on extensive archival research, charts the ascent of the merchants established around Antwerp.

Physical Description:
xiii, 312 pages ; 24 cm

Bibliography:
Includes bibliographical references (pages 179-215) and index.

ISBN:
9781848935761
1848935765

Published:

London ;

Pickering & Chatto (Publishers) Ltd.,

2016.



Series:
Perspectives in economic and social history ; 38.

Call number