Administration and taxation in former Portuguese Africa, 1900-1945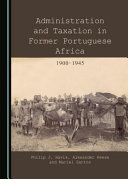 Books and Brochures

Author:
Havik, Philip J.
Keese, Alexander
Santos, Maciel

Language:
English

Physical Description:
xii, 256 pages : illustrations, maps ; 22 cm

Bibliography:
Includes bibliographical references and index.

ISBN:
9781443870108 (hbk.)
1443870102 (hbk.)

Published:

Newcastle upon Tyne :

Cambridge Scholars Publishing,

2015.



Call number