Japan's industrious revolution : economic and social transformations in the early modern period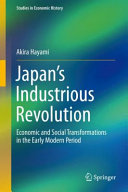 Books and Brochures

Author:
Hayami, Akira, 1929-

Language:
English
Japanese

Physical Description:
xix, 130 pages : illustrations, maps ; 24 cm.

Bibliography:
Includes bibliographical references.

ISBN:
4431551417
9784431551416

ISSN:
2364-1797

Published:

Tokyo :

Springer,

2015.



Series:
Studies in economic history.

Note:
"The volume is a modified version of Kinsei nihon no keizai shakai (Economic Society in Early Modern Japan), which was published by Reitaku University Press in 2004"--Preface.

Call number