Chess periodicals : an annotated international bibliography, 1836-2008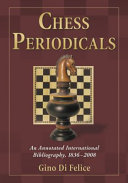 Books and Brochures

Author:
Di Felice, Gino, 1955-

Language:
English

Summary:
"This comprehensive reference work presents detailed bibliographical information about worldwide chess periodicals past to present. It contains over 3,700 entries. Information for each entry includes year and country of publication, frequency, sponsors, publisher, editors, language, subject, and holdings in chess libraries. Includes an alphabetical periodical index and an index of periodicals by country"--Provided by publisher.

Physical Description:
vii, 349 p. ; 26 cm.

ISBN:
9780786446438 (softcover : alk. paper)
0786446439 (softcover : alk. paper)

Published:

Jefferson, N.C. :

McFarland & Co.,

c2010.



Note:
Includes indexes.

Call number
NIBG (Perscollectie) 2013/3133