Het N.A.S. gesplitst : Door een vernielende stroom uit den Russischen krater.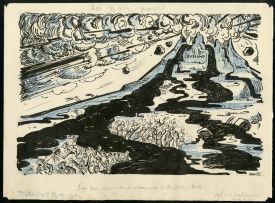 Visual Documents

Draughtsman:
Hahn, Albert, Jr.

Collector:
Hahn, Albert, Jr

Period:
1923-1923

Physical Description:
25x32 cm.

Access:
Digitaal materiaal online beschikbaar

Published:

1923, 30 juni

(Amsterdam :De Notenkraker,



Genres:
Note:
In juni 1923 was er een grote uitbarsting van de vulkaan de Etna. Hahn jr. heeft dit verwerkt in zijn tekening.

Subject Corporate Name:
NAS

Subject Location:
Netherlands
USSR

Call number
NIBG (Perscollectie) BG PM1/101-49
Use restrictions for the image
Please consult the IISH copyright statement before using this image.
The IISH does not know the copyright owner of this document, if any. In many cases, however, most notably for commercial purposes, permission to reproduce material in copyright is required from the copyright owner. The onus of establishing the copyright owner and obtaining permission rests with the user. If you are the copyright owner, please get in touch with the IISH.