Le chant de la paix.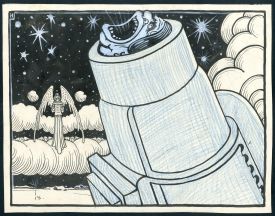 Visual Documents

Draughtsman:
Hahn, Albert

Collector:
Hahn, Albert

Period:
1914-1914

Physical Description:
22x28 cm.

Published:

1914, 24 december

(Amsterdam :De Notenkraker,



Genres:
Note:
Titel prent: Het Engelenlied in den Kerstnacht van 1914 : met begeleiding van fleissige Bertha (het accompagnement domineert min of meer).

Subject:
War and peace

Call number
NIBG (Perscollectie) BG PM1/30-90
Use restrictions for the image
Please consult the IISH copyright statement before using this image.
The IISH does not know the copyright owner of this document, if any. In many cases, however, most notably for commercial purposes, permission to reproduce material in copyright is required from the copyright owner. The onus of establishing the copyright owner and obtaining permission rests with the user. If you are the copyright owner, please get in touch with the IISH.