De brug des levens : op iederen trede staat een offerbus van Kolkman. Aan het einde wacht Talma met de rijksdaalder, maar aan het einde wacht Magere Hein om te zorgen dat de 70 niet bereikt wordt.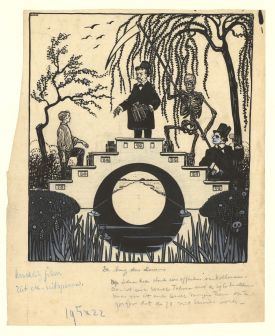 Call number
NIBG (Perscollectie) BG PM1/18-1
Use restrictions for the image
Please consult the IISH copyright statement before using this image.
The IISH does not know the copyright owner of this document, if any. In many cases, however, most notably for commercial purposes, permission to reproduce material in copyright is required from the copyright owner. The onus of establishing the copyright owner and obtaining permission rests with the user. If you are the copyright owner, please get in touch with the IISH.