Zengjia nongye shengchan, ba yuliang maigei guojia, bangzhu guojia jianshe!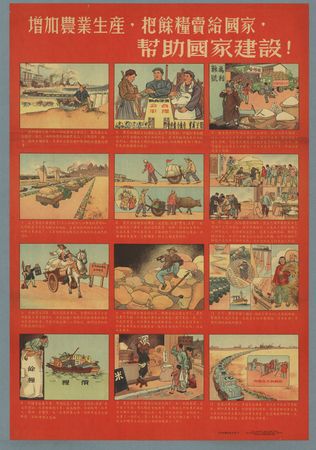 Visual Documents

Designer:
Wang Zhongqing
Lu Dunliang
He Ming

Period:
1954-1954

Physical Description:
77x53 cm.

Published:

1954, January

(Shanghai :Huadong renmin meishu chubanshe,



Genres:
Note:
'Increase agricultural production, sell the spare grain to the country, help founding the country!' Twelve pictures telling how to increase production and that it's important to keep prices low.

Subject:
Agriculture

Subject Location:
China

Call number
Use restrictions for the image
Please consult the IISH copyright statement before using this image.
The IISH does not know the copyright owner of this document, if any. In many cases, however, most notably for commercial purposes, permission to reproduce material in copyright is required from the copyright owner. The onus of establishing the copyright owner and obtaining permission rests with the user. If you are the copyright owner, please get in touch with the IISH.